Selling your home at any time of year is stressful, and of course, naturally, we tend to put a lot of time and effort into showing our homes in the best possible light, Metaphorically speaking at least! Bright summer sunshine that fills a room with cheerful light and leads to a garden looking resplendent in full bloom, makes it far easier to make your home look appealing. How then, in the dark and dreary days of winter can we show our homes off to best effect?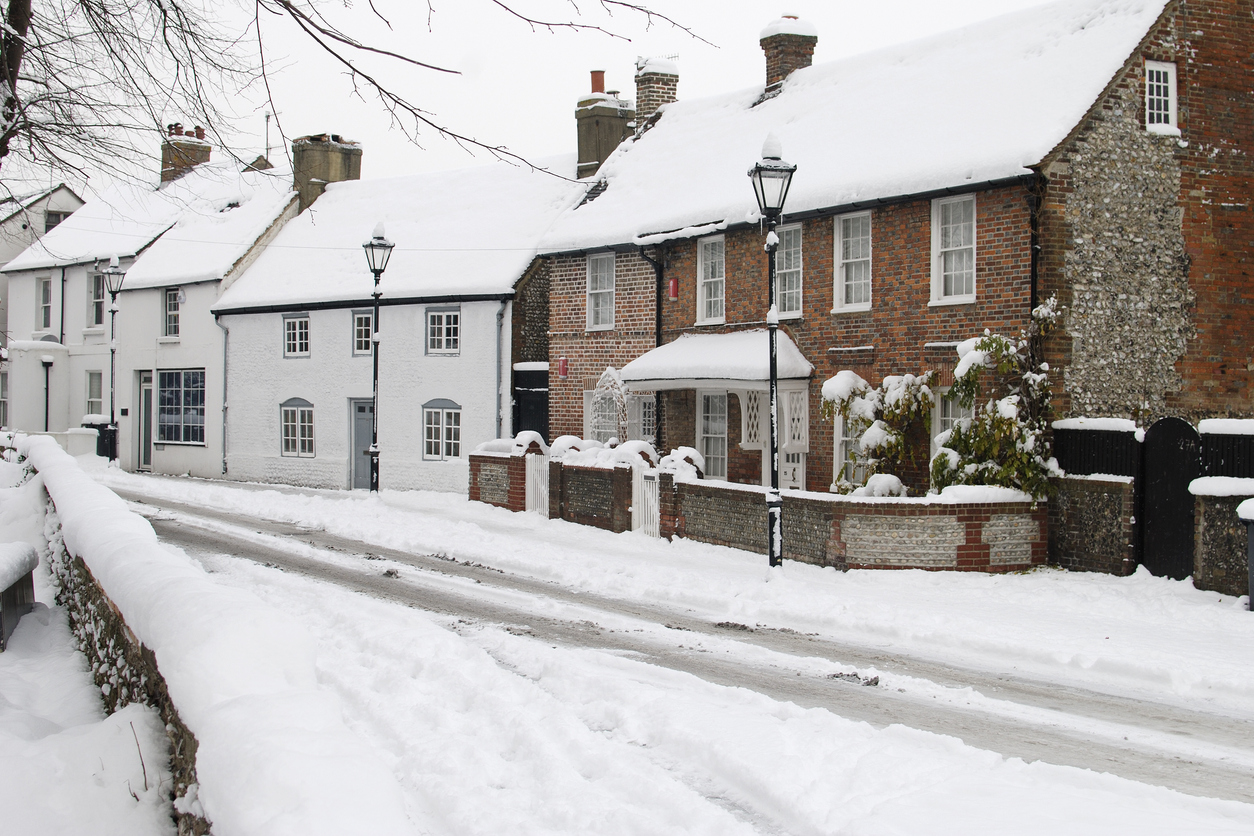 Think about an idyllic winter scene and it might involve a bright winters' day, a pretty little cottage with smoke from a real fire puffing out of the chimney, pristine white snow covering the ground and perhaps even a Robin chirping a welcome perched atop a garden wall or gate.
Whilst showing your property in conditions like this will instantly give would-be buyers that all important sense of kerb appeal and feel-good vibes, the truth is, here in the UK the winter means we're spending months on end in what can feel like endless gloom.
Snow is rarely white and pristine, and when it does fall, within hours it's turned to an ugly grey slush. Trees are bare and skeletal and as our perennials sleep, they can appear dead and decidedly unattractive!
With limited daylight, even the brightest of homes can appear a little dingey, so if your home is on the market, or you're thinking of putting it on the market over winter, you're going to need to utilise a few tricks to help increase its visual appeal when you show it to prospective buyers.
Fortunately, there are some really easy things you can do to make your home look and feel more cosy and inviting.
Make your home look and feel cosy
Additional soft lighting can be a real benefit during the darker winter months, especially in spaces that are prone to looking dark anyway.
Lamps, fairy lights and even candles can be strategically employed all over the house to make the interior of your home feel more inviting and is possibly the easiest thing you can do. Whilst 'the big light' will of course adeptly illuminate a space, very bright, harsh lighting can feel far less soothing and welcoming than gentler mood-lighting does.
As with viewings in general, think about smell too. Welcoming scents in winter could be a festive cinnamon scented candle or a fresh natural room spray. Together with good lighting, this will make it easy to create a cosy and more welcoming feel to your home.
…But not too cosy!
Warm and cosy is of course good, but hot is not so great, so don't make the mistake of having your central heating on full blast paired with a roaring open fire. The combination could make your home uncomfortably warm for most people, especially when coming in out of the cold, and in winter they are likely to be viewing your property wearing a jumper and even still wearing their coats.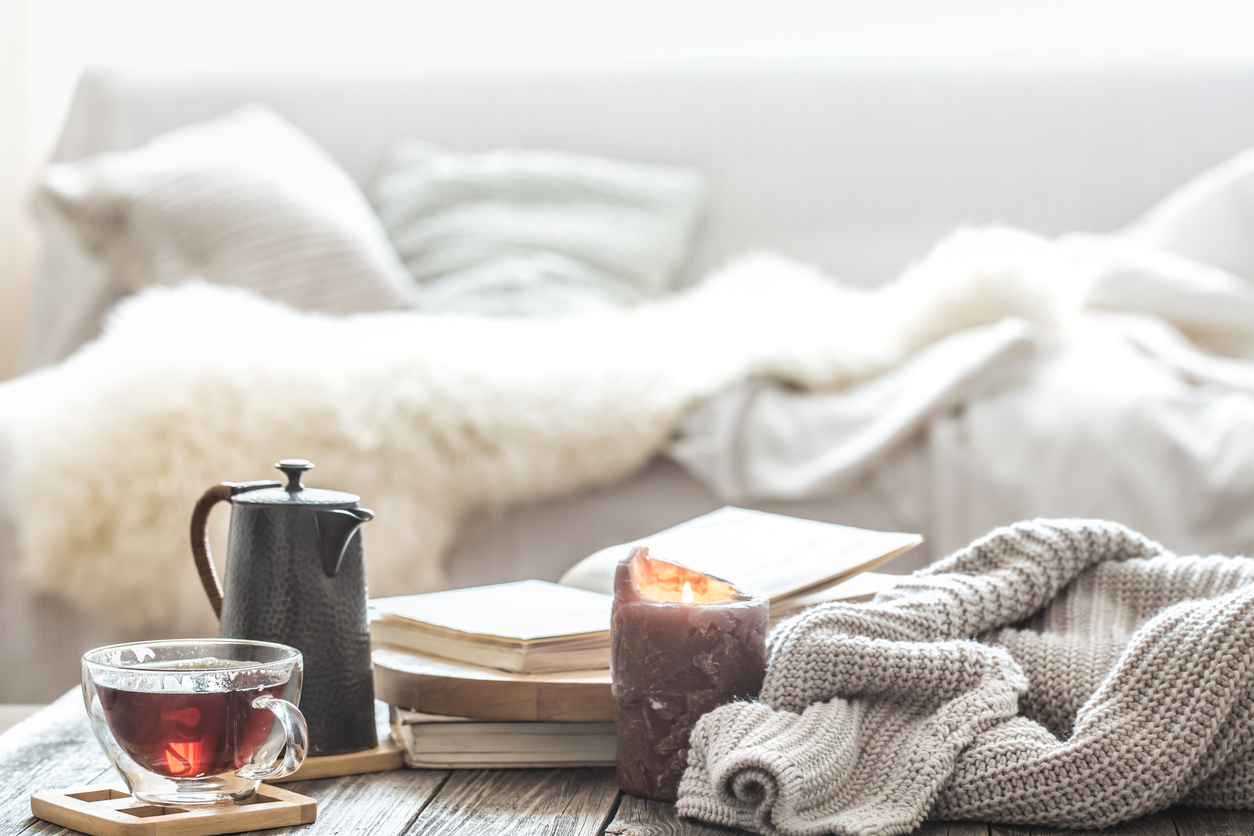 To help avoid viewers getting all hot and bothered (and thus rushing the viewing in a bid to get out!), try to ensure your home is just warm enough - no one wants to see their breath coming out as fog inside a house - but make sure it's not uncomfortably warm and offer to take your viewers' coats when they arrive so they'll be able to maintain a more conformable temperature.
Make sure your paths are safe
The last thing you want is a potential buyer slipping on ice when they walk up the path, so if it's a very cold day, or the viewing is early in the morning and the ground is still icy, get out there and treat your driveway and path to ensure ice is fully melted before viewers arrive.
Clear away any fallen leaves
Although it's difficult to make a front garden look appealing in winter, do check for fallen leaves, especially if you're selling towards the start of winter, leaves that feel a few weeks ago can start rotting and can look unsightly and messy, so a quick garden tidy up is in order before showing your property.
First impressions
Don't forget those all-important first impressions (take a look at our blog all about how important kerb appeal is), so if it's a particularly dreary day, make sure you pop on your outside lighting.
If it's in the run-up to the festive period, a lovely seasonal wreath on your front door or a small potted Christmas tree and fairy lights outside the house can make for a really positive and welcoming first impression.
If you're thinking of putting your home on the market soon you might be wondering how much it's worth. Check out our tool which will give you a fast, free online property valuation.