Having seen the tiny plots new build homes are increasingly squeezed onto it may come as no surprise in here in the UK our homes have been steadily shrinking for decades and are substantially smaller than the average home in America or Australia, but do you know just how much smaller our homes really are?
We delve into these and other stats that reveal how our homes have changed over the years.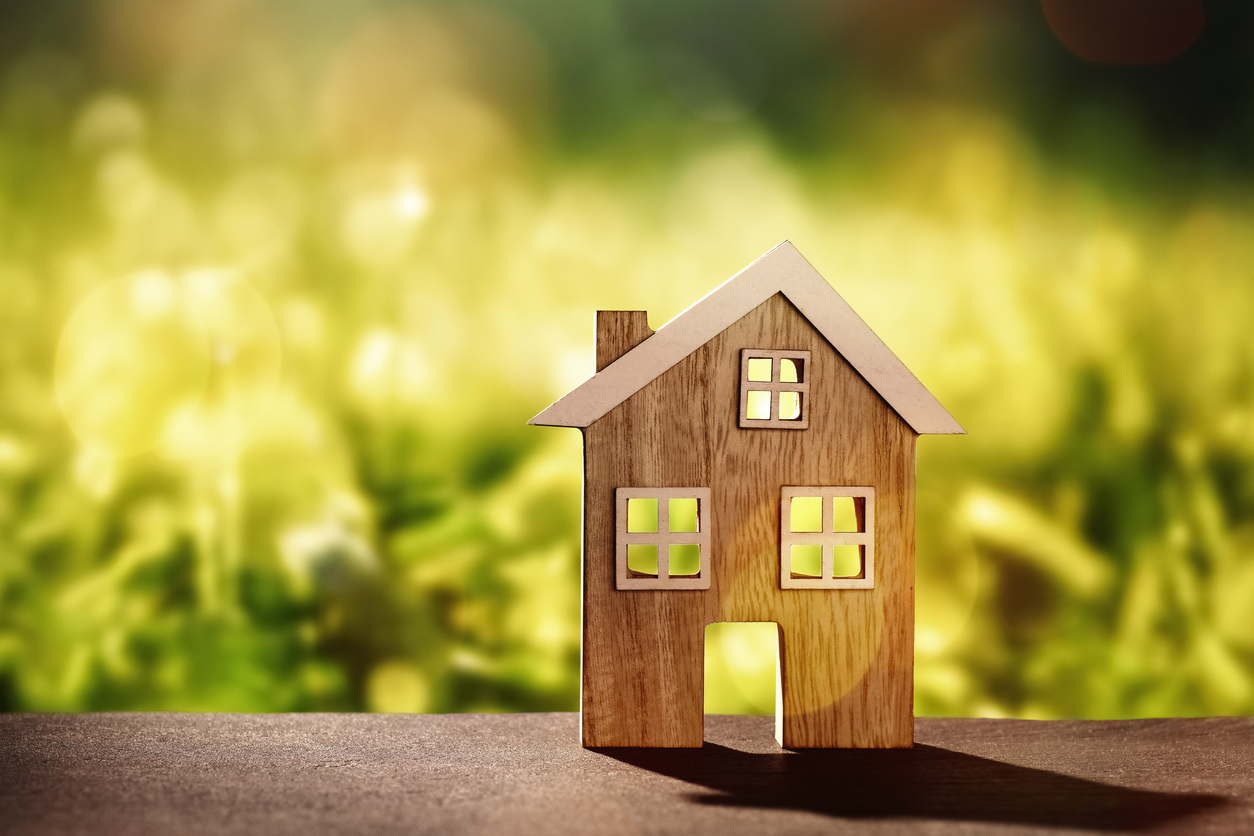 Data from Which? states that UK homes are now around 20% smaller than they were back in the 1970's, with houses constructed in the last decade providing an average of 67.8 square metres of living space.
Given homes now 20% smaller than they were in the 70s, we wondered if there were any rooms that had shrunk more than others and found that the biggest change has taken place in the average size of living rooms.
Rooms that have shrunk the most
The average living room in the 70s provided 24.89 square metres of space compared to a current average of just 19.75 square metres in the last 10 years. Is this shrinkage a reflection of the way we're living?
Perhaps families are spending less time together in the living room and more time in open-plan kitchens and dining rooms, or perhaps it's just greedy developers putting the squeeze on space wherever they can in order to fit more homes onto plots?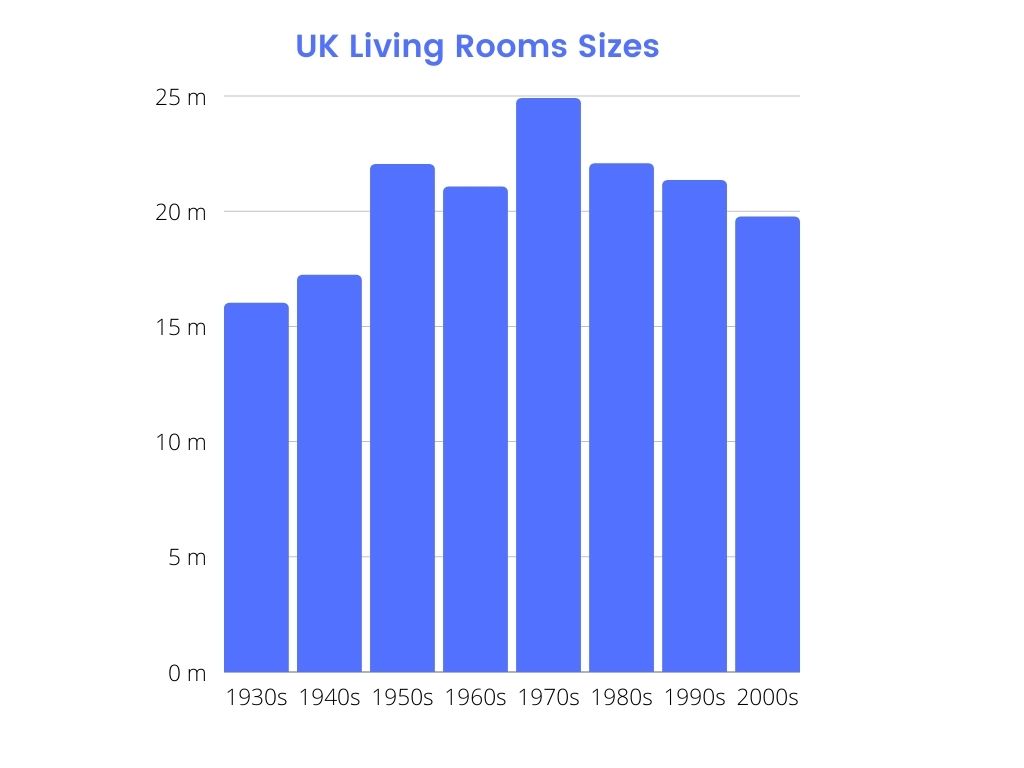 Source: LABC Warranty
Some rooms have increased in size
It's not all bad news for our homes though, some rooms have actually increased in size in the last decade. Kitchens, in particular, have grown in size, providing an average of 13.44 square metres of space compared to 12.27 square metres in the 70s.
Just don't compare our kitchen size to those of our cousins over the pond where the average size of a kitchen in America is a whopping 66.8 square metres!
In the UK the average master bedroom is currently 13.37m2 and our main bedrooms have been steadily dropping in size since the 1930s when they were on average 15.34m2.
In the UK that makes our master bedrooms less than half the size of those in the USA which are on average 29 square metres. By comparison, master bedrooms in Australia are a little closer in size, but still bigger than those in British homes, at 16 m2 on average.
It's not just houses that have shrunk. Statistics also show that homes like apartments and flats are also getting smaller, with some offering as little as 30 square metres of living space.
When it comes to total living space across the world, you might be surprised to learn that it's not American homes that come in top, but Australian homes and even more surprised to learn that despite their reputation for miniscule homes, the average home in Japan is significantly larger than those in the UK.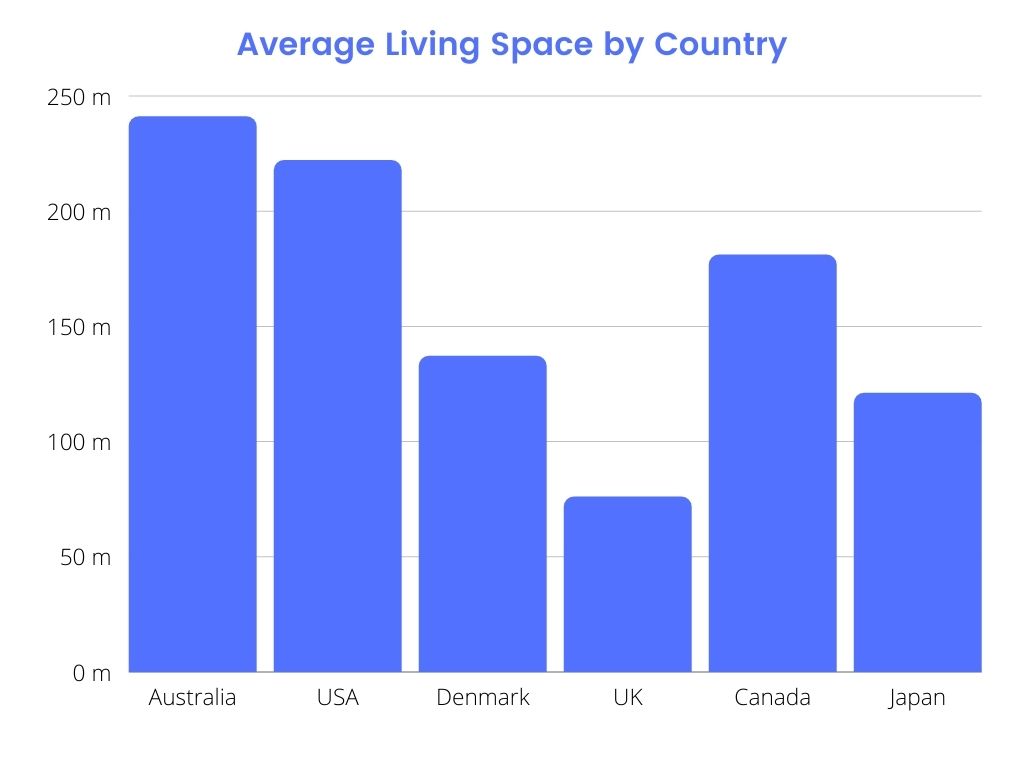 Source: Average Aussie
More rural locations and properties in less populous areas of Japan remain generously sized, It's only properties in Tokyo where space is at an absolute premium, where the average size of a home is smaller than in the UK at an average 65.9 square metres, though much smaller micro living spaces exist.
If you want to make your home feel like its enormous, take a look at this tiny 9.46 m2 apartment in Tokyo.
No matter how big (or small!) your current property is, if you're thinking of moving, before you put it on the market, find out how much your home is worth with a free home valuation.