With many people still working from home there's never been a better time to think about the space that you work from. Perhaps you're planning on working from home for the first time, or you might have made a permanent switch to home working and could be looking at revamping your home office setup or maybe you want to present your home office in the best light to tempt potential buyers? Whatever your circumstances, if you're working from home, this post is for you!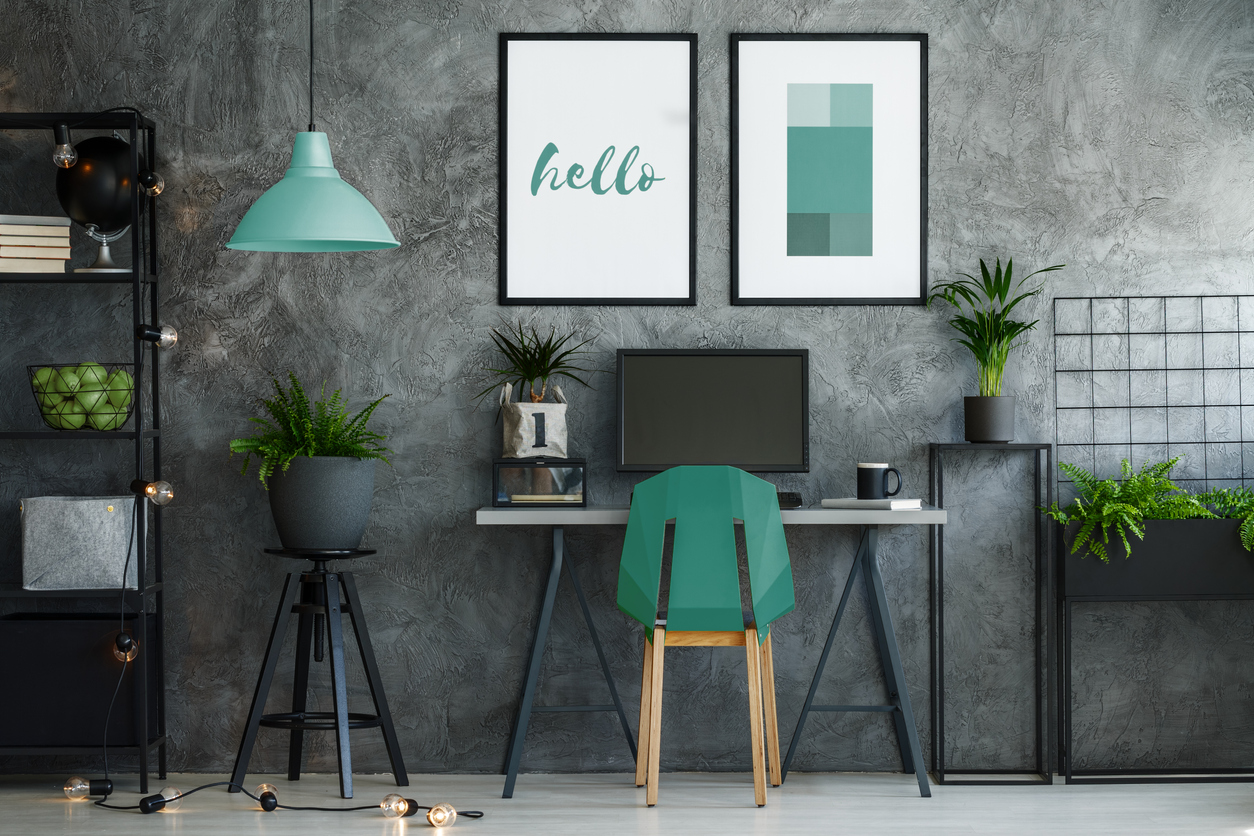 1. Lighting
In the office you'll no doubt be used to harsh strip lighting and whilst some people like bright lights to keep them alert or don't notice them, others can be quite sensitive to light.
Bright artificial lights can cause eyes to fatigue more quickly whilst more gentle or natural lighting may provide a more calming workspace.
Regardless of your lighting preferences, the best place to work, and therefore to position your office desk, is close to a window to allow natural light to flood in.
The same is true during summer when you can crack open the window and benefit from some fresh air.
If you're struggling to stay alert when working from home and feel that gentler home lighting might be part of the cause or the room you're in is naturally quite dark, you could look at investing in daylight simulating light bulbs or specialist light boxes to make your workspace brighter.
2. Chair comfort
When I went to my physiotherapist recently he was horrified when I admitted to occasionally choosing to work snuggled up on the sofa with my laptop on my knee. "No wonder your back and neck hurt so much!" he admonished and made me promise not to do it again.
Suitably chastised I returned to my desk, but also purchased myself a memory foam lumbar support cushion and it's made a world of difference!
Not everyone is lucky enough to have a fancy office chair, or even a dedicated single-purpose room they can use as an office at home and with some people working from sofas and dining tables, this can cause issues that affect our posture, resulting in discomfort and pain.
A decent chair doesn't need to cost you the earth but does make a worthwhile investment. Look for features like a mesh back to keep you cool, a padded seat for extra comfort, height and tilt adjustment as well as extras like arms and a lumbar support.
A comfortable chair that's designed for heavy use will help ensure your posture doesn't suffer and that you'll be able to stay seated all day whilst remaining pain-free. Sadly that really cool looking replica Eames Eiffel chair might look the part, but when it comes to all-day comfort, you might need to sacrifice style for greater practicality and comfort.
Do consider too that no matter whether you're working from home or the office, having regular break to move and stretch is a very good habit to get into and can help alleviate pain.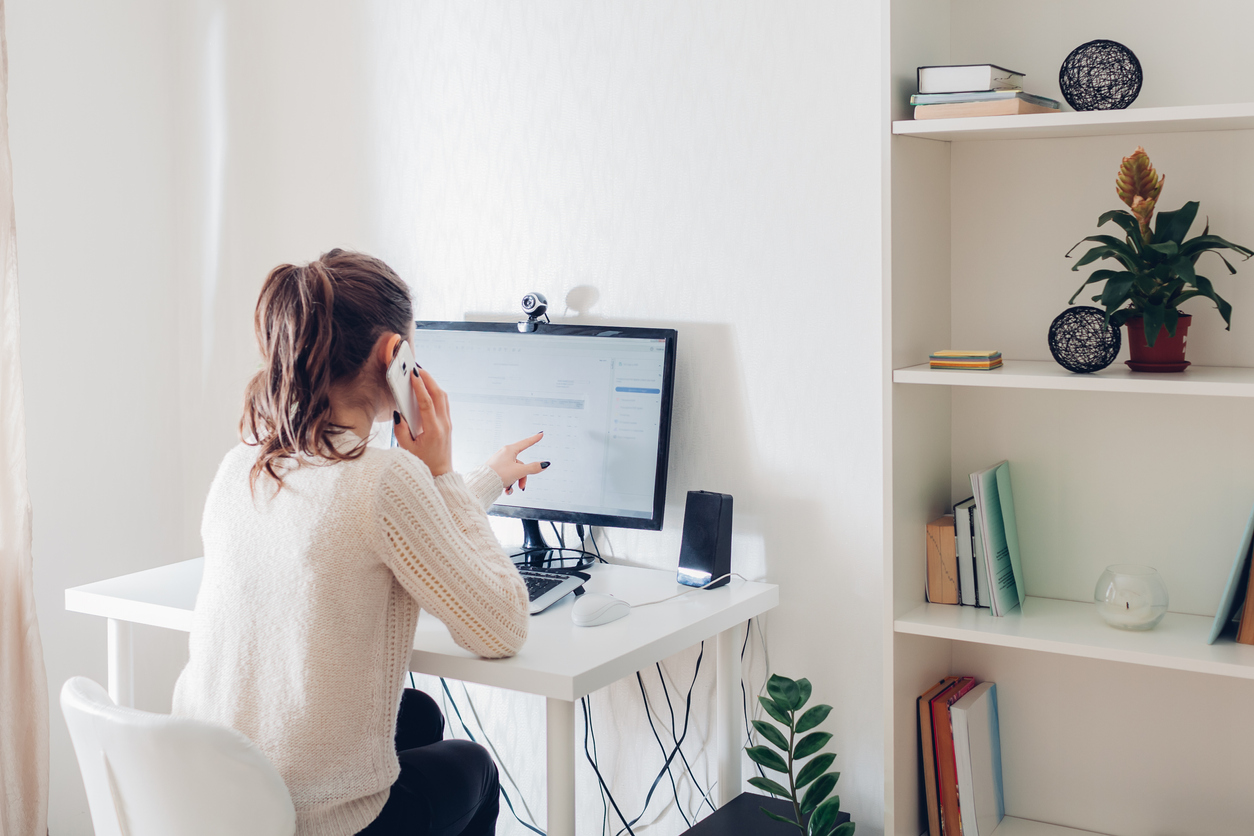 3. Plants & Décor
The space that you work in can not only impact your attention and physical health, but it can also impact your wellbeing. If you're used to a very noisy office, working from home and the resulting quiet could feel quite alien to you, or you might love the peace and quiet!
Whilst one person might thrive with a totally clear desk in a neutral room painted in magnolia, the next person might thrive in a more creative atmosphere in a room full of colours, shapes, objects and textures.
Have a think about what matters aesthetically to you and if a lick of paint and a few new framed prints will allow you to enjoy your workspace more than go for it!
Even if you aren't particularly aesthetically driven and don't really mind what your surroundings look like, you could still benefit from introducing some plants to your workspace, as research has shown that house plants can actively enhance wellbeing.
Check out these tips on how to create an office space where you'll thrive and take a look at Grow Urban houseplants to get some ideas on how to make your workspace that bit greener.
4. Distractions
It's true that some people thrive in a more structured and more highly monitored office environment whilst others are happier working from home. Either way, removing distractions is key to making your home office space work for you.
Distractions come by way of any number of things, but most commonly by way of clutter. Your office might not actually be an entirely separate room, it could be a workstation set aside in your conservatory, it could be part office part craft space or guest bedroom or it could even be the dining room table!
Regardless of where your workspace is located, removing distractions will help you remain focused throughout the day. Pop the radio on or listen to a podcast for company by all means, but don't be tempted to stick the TV on, start tidying up, or prepping dinner!
Of course, one of the nice things about working from home is that if you do happen to get distracted, you've got the flexibility to make the time up, but it's usually a bad idea to let yourself get side-tracked with household chores or the TV, so try and create a space that is as free from distractions and as focused on work as possible!
5. Storage
There's probably a reason why your desk in the office was set out the way it was. Convenience, designed to help you work more efficiently. For most of us, that means having the things we need to use, from stationary to reference books to desk phones, positioned within easy reach or stored away somewhere close by and easy to put our hands on.
At home, with our routines shaken up, to work efficiently make sure your workspace is set up to mimic your desk in the office, or at least make sure you've got the things you'll need to carry out your job close to hand.
If you have a designed room as a home office (i.e. a room whose sole purpose is as a home study/office) then making it work for you will be easier as you can introduce furniture and storage as needed.
For those who are hot-desking, or just grabbing space in the house wherever they can, consider a large file box for essential documents and if you have various items of stationery or accessories that you need to do your job, invest in a large storage box with handles that you can easily move around the house with you.
That way, no matter where you're working, you'll know that everything you need is in the storage box and you can easily transport everything from room to room should you need to.
Having appropriate storage, particularly if you have a home office is also a great way of making you more efficient, as cutting down on clutter can help you to stay more focused.
These days with more of us than ever working from home, you might find that a lovely home office is a positive selling point too. In years gone by, converting the spare room to an office was often advised against, but it could be that the needs of buyers are changing and so a lovely office instead of a tiny box bedroom could add value for the right buyers!
Free & Fast Home Valuations
If you're thinking of putting your property on the market, why not get a free home valuation quickly and easily.